Special Offer
SPECIAL OFFER FOR FOLLOWERS OF DEALS4DUMMIES.com
Based on the true story of a loggerhead sea turtle name Eartha, this enchanted tale tells the story of a young sea turtle who finds help in the last place she expected.
Through colorful imagery it helps children learn how important it is to help animals who become injured due to man's negligence.
Authors Note : This story is design to help children relate to, and understand how dangerous pollution is to our ocean friends. Without preaching, the book tells the story about a young loggerhead sea turtle who is entangled in fishing line. She tries to have her ocean friend help her get it off, but none of them are capable. Eartha becomes sad. It is only when she floats to the surface is help found. She is rescued by people in a boat and taken to a special marinelife hospital where she is treated, then released back to the ocean to be with her friends. It's message is easily understood by children without overpowering the story, and cuteness of the characters. The book is recommended for children ages 3 to 5 and is ideal as a bedtime story for its happy ending.
The story is based on a real sea turtle named Eartha who was rescued at the Loggerhead Marinelife Center in Juno Beach, Florida.
Publication Date: Nov 23 2009
ISBN/EAN13: 0984322809 / 9780984322800
Page Count:36
This special offer is only available through this web site.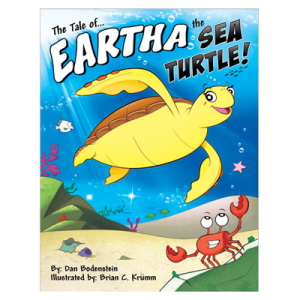 Order Eartha's Special Offer
(Signed by the Author)
$9.99 US
(If you'd like your book dedicated to a special child, please email their name(s) to info@totemtales.com once you complete your order)
Sample Pages