The Tale of Eartha the Sea Turtle – Special Package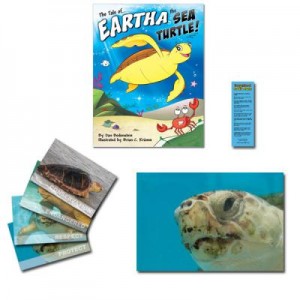 Get your own signed copy of The Tale of Eartha the Sea Turtle
Based on the true story of a loggerhead sea turtle name Eartha, this enchanted tale tells the story of a young sea turtle who finds help in the last place she expected. Through colorful imagery it helps children learn how important it is to help animals who become injured due to man's negligence.
This book is based on a real story about a rescued sea turtle named Eartha. In the book, Eartha gets tangled in fishing line, a fate that happens to many sea turtles and other marinelife in the wild. In reality, Eartha was suffering from an infection, and was anemic (low red blood cell count).
The book is meant to teach children how important and fragile our oceans are, and how necessary it is to be vigilant when it comes to human negligence. One plastic bag, one piece of fishing line, one plastic soda ring can mean the difference between life, and death.
The book uses colorful imagery and a simple message of caring to illustrate this message. Together we can help preserve our oceans so they may be enjoyed by generations to come.
This special package includes the following..
A copy of the book signed by the author, Dan Bodenstein
Four (4) color photo postcards of the real Eartha.
A full color bookmark featuring facts about Loggerhead sea turtles.
An 8 x 10 color photograph of the real Eartha.
This special offer is only available through this web site.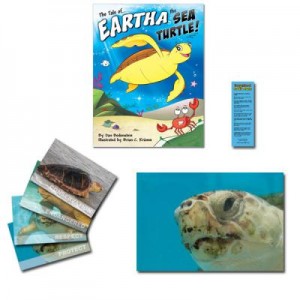 Order Eartha's Special Package
(Signed by the Author)
$19.99 US