Main
New projects are in the works at Totem Tales Publishing

New iPhone App
Totem Tales is launching a new iPhone App. The new App is a virtual deck of Animal Totem Cards. These cards will help you understand the hidden messages from animals you encounter. The app is now available on the App Store.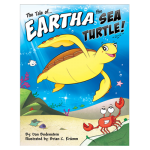 Eartha earns great reviews
The Tale of Eartha the Sea Turtle has been receiving great reviews on Amazon.com. In light of the recent oil disaster, Eartha's tale is a great way to teach kids about pollution in our oceans. Only through education can we prevent future disasters, and make a brighter tomorrow.
Check out our blog
Be sure to check out our blog. We will be posting information on new projects as well as updating existing projects. Who knows? You may get a sneak peek at something top secret. If you want to know what's going on, the blog is the best place to start.
Available Apps

Eartha the Sea Turtle
Other Websites