Hugh is coming soon.
on Jul 18 in
News
,
Slider
by
Dan Bodenstein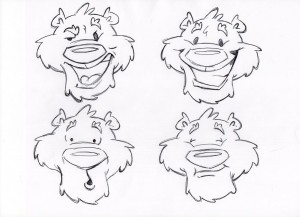 Currently in the development stage is a new web comic book character named Hugh.
Hugh is part of a team created by the mind of my friend, and illustrator, Ron Robrahn. Ron created the character and his purpose, and through some fun creative writing, together we are bringing him to life.
The comic will charter the journey of a polar bear named Hugh, and his two mischievous penguin friends. Living in Antarctica all their lives, they decide to take on a journey, and go on vacation. The only problem is, they're not sure what a vacation really is. Their naivety leads to all sorts of fun as they travel the globe exploring the world.
Side Note : Hugh, the polar bear, is named after Hugh Rowland of the show "Ice Road Truckers". His nickname is "The Polar Bear".
Stay tuned for more information on Hugh and his adventures.